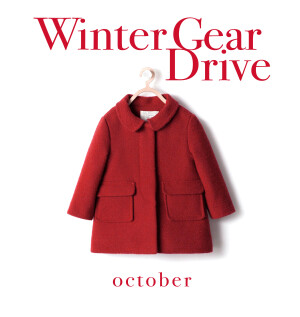 We're kicking off our 3 Ways to Give this October with our Winter Gear Drive! Your gifts of winter gear will help keep kids from three local elementary schools (Loves Park, Windsor, and Rock Cut) warm as they walk to school, and allow them to play outside during recess. You can drop items off in the bins located in the lobby any time during the month of October (on Sundays or during regular office hours). The complete list of needs is below.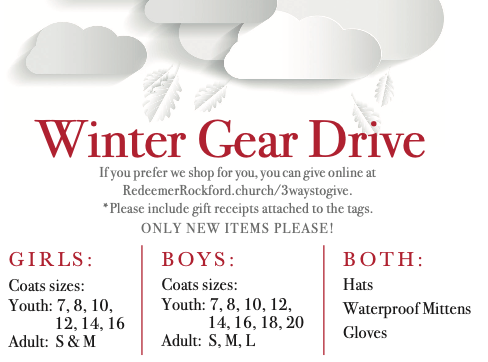 Our goal is to collect 150 coats (50 per school). Please include gift receipts attached to the tags. New items only please!
If you would rather we shop for you, you can give online via myRedeemer here.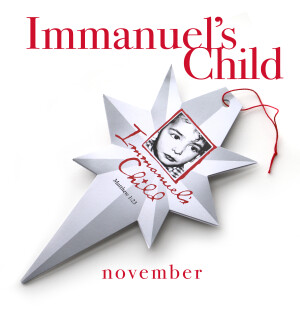 Since our church was planted in 2003, we have supported a small church in Shablykino, Russia. This annual collection provides a Christmas outreach for kids and their families in their community. Your gift of $25 will help provide a gift and an opportunity for a child to hear the gospel. Any time during the month of November, you can take a Star Ornament home. Hang 1 half on your tree to remember to pray for your child. Return the other half with your $25 gift (checks written out to Redeemer; Immanuel's Child on the memo), and we'll send that half of the star over to Russia to be received with your gift.
You can also give $25 online through myRedeemer.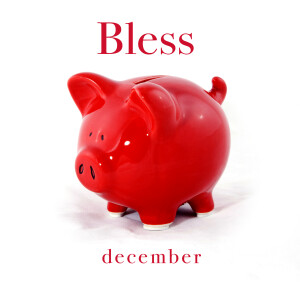 Your financial gift of any amount will help provide food packs for children of District 122 during winter break that are at risk of going hungry without outside assistance. Most are part of a "backpack program" that provides food over the weekends for them. However, during the long winter vacation food can become sparce. These totes provide snacks and easy-to-prepare meals for children to make and eat while off from school. We provided 138 totes last year and would love to do even more this year!
Give online here through myRedeemer or at the Redeemer Church App.
Bless Tote-Packing Event December 13, 5 pm.